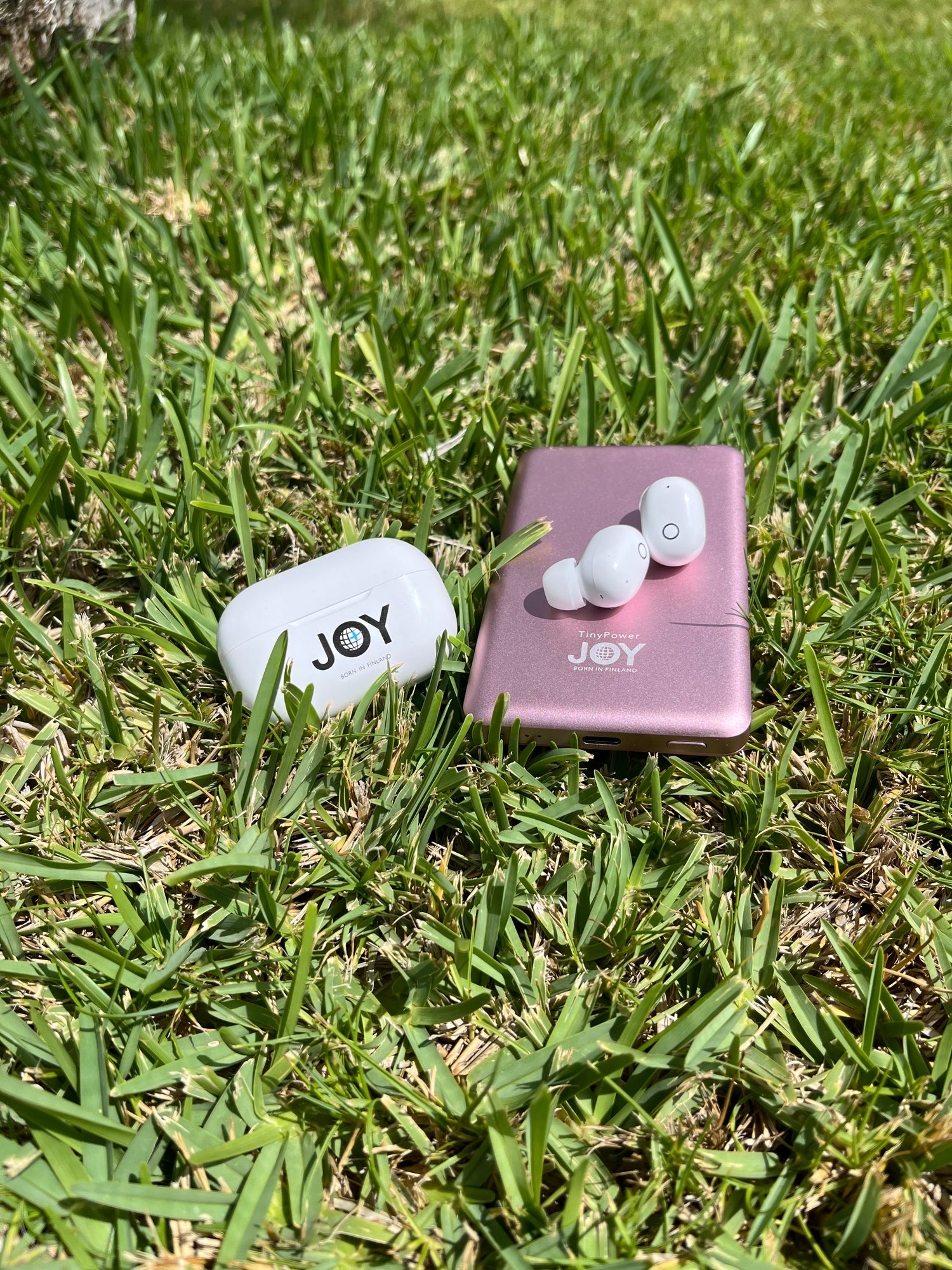 ⭐⭐⭐⭐⭐
TinyPower + Street
TinyPower® - Maailman pienin magneettinen ja langaton virtapankki, jonka ansiosta sinun ei tarvitse enää ikinä huolehtia akusta. Sopii kaikkiin puhelinmalleihin. Helppo ja vaivaton pitää mukana minne menetkin.
Hyödynnä etu: Nyt saat TinyPower® virtapankin mukana Joy Street-kuulokkeet! (arvo 59€)
✅ Helppo kuljettaa mukana
✅ Sopii kaikkiin laitteisiin
✅ Suomalainen & ekologinen
I like that TinyPower is small and magnetically sticks to my phone. It has a lot of charging capacity compared to its size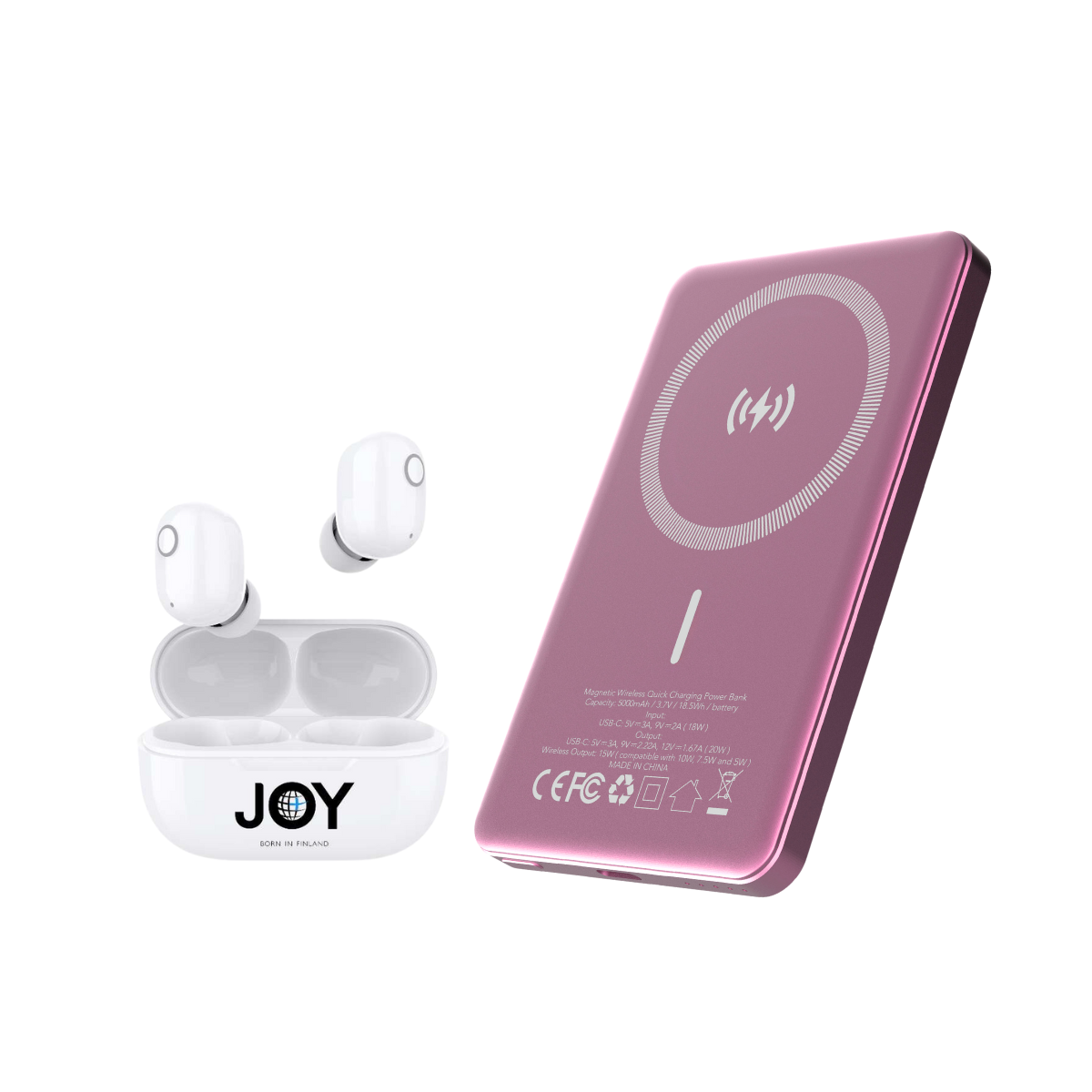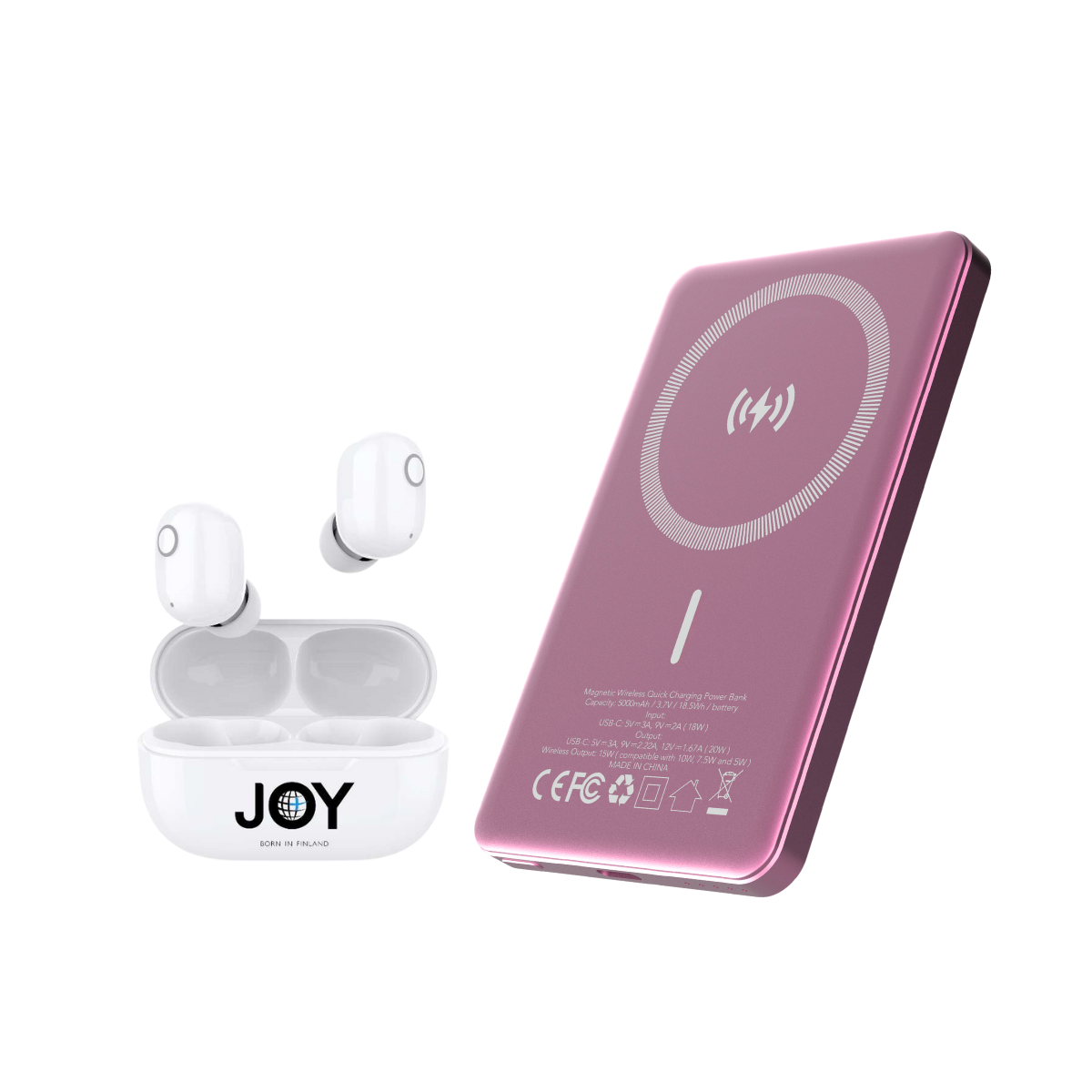 TinyPower tiedot
Kapasiteetti
5000mAh/18.5Wh
Type-C -tulo
DC 5V-2,5A, 9V-2A (18W)
Type-C lähtö
DC 5V-2.4A, 9V-2.0A, 12V-1.67A (20W)
Langat
 s DC 9V-1.67A (15W)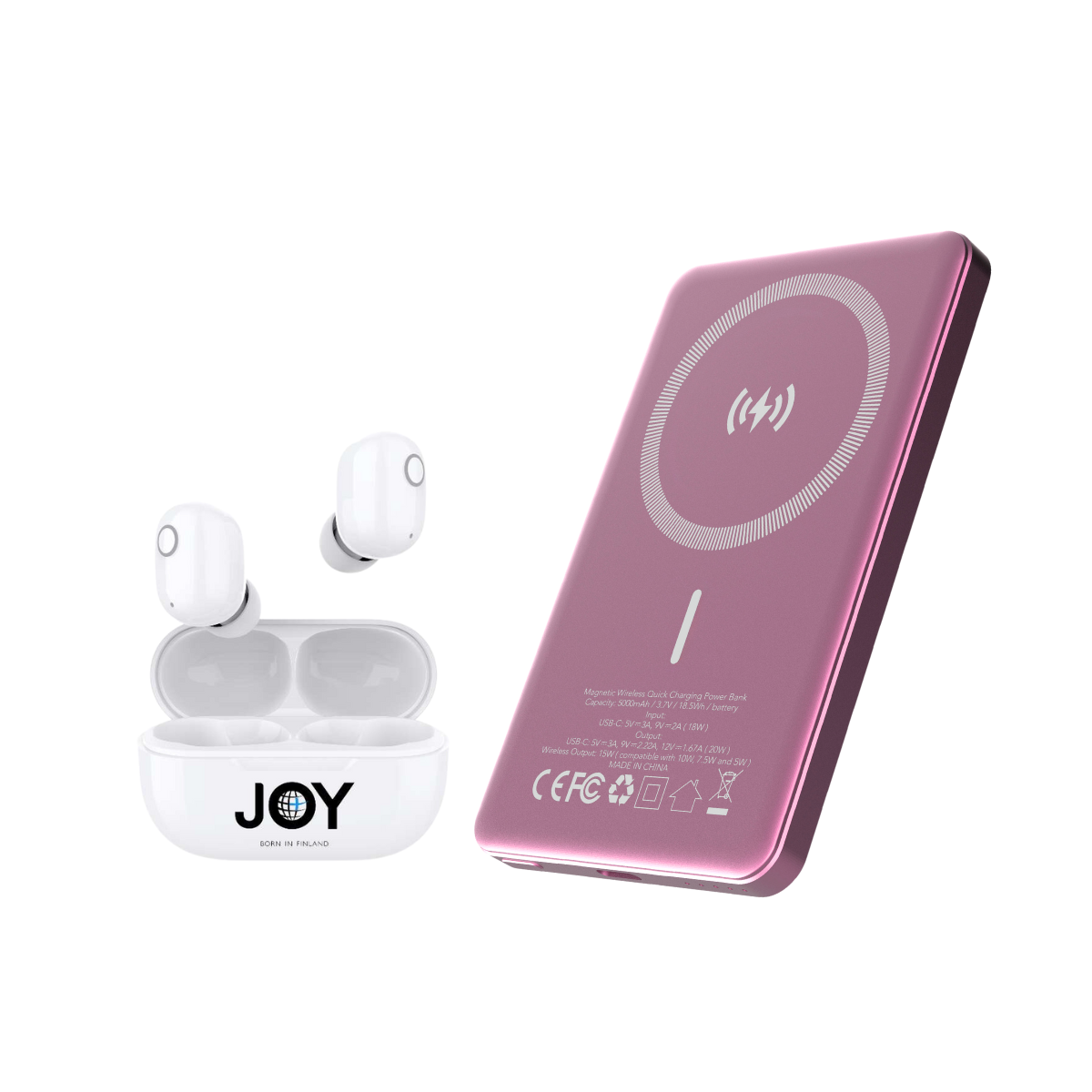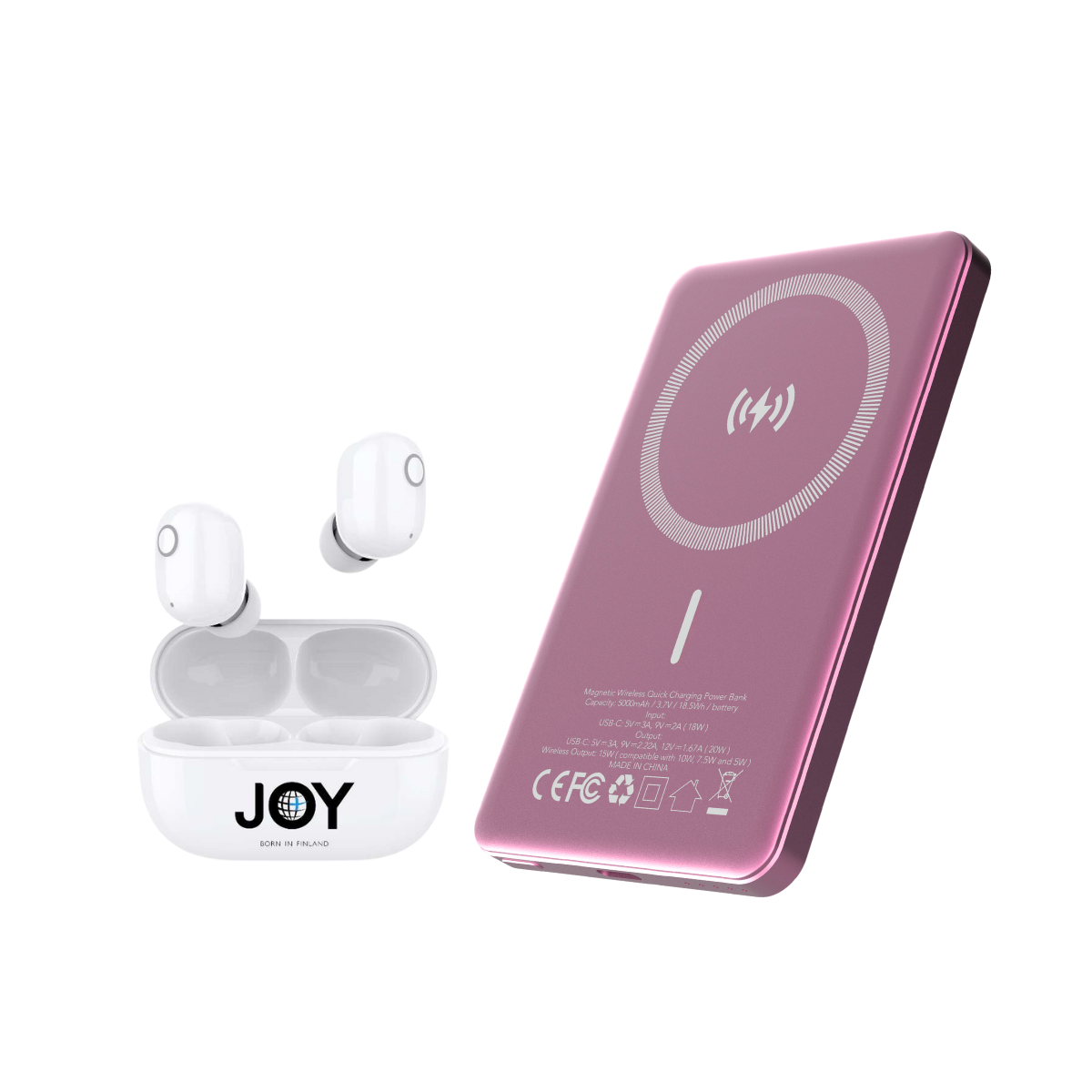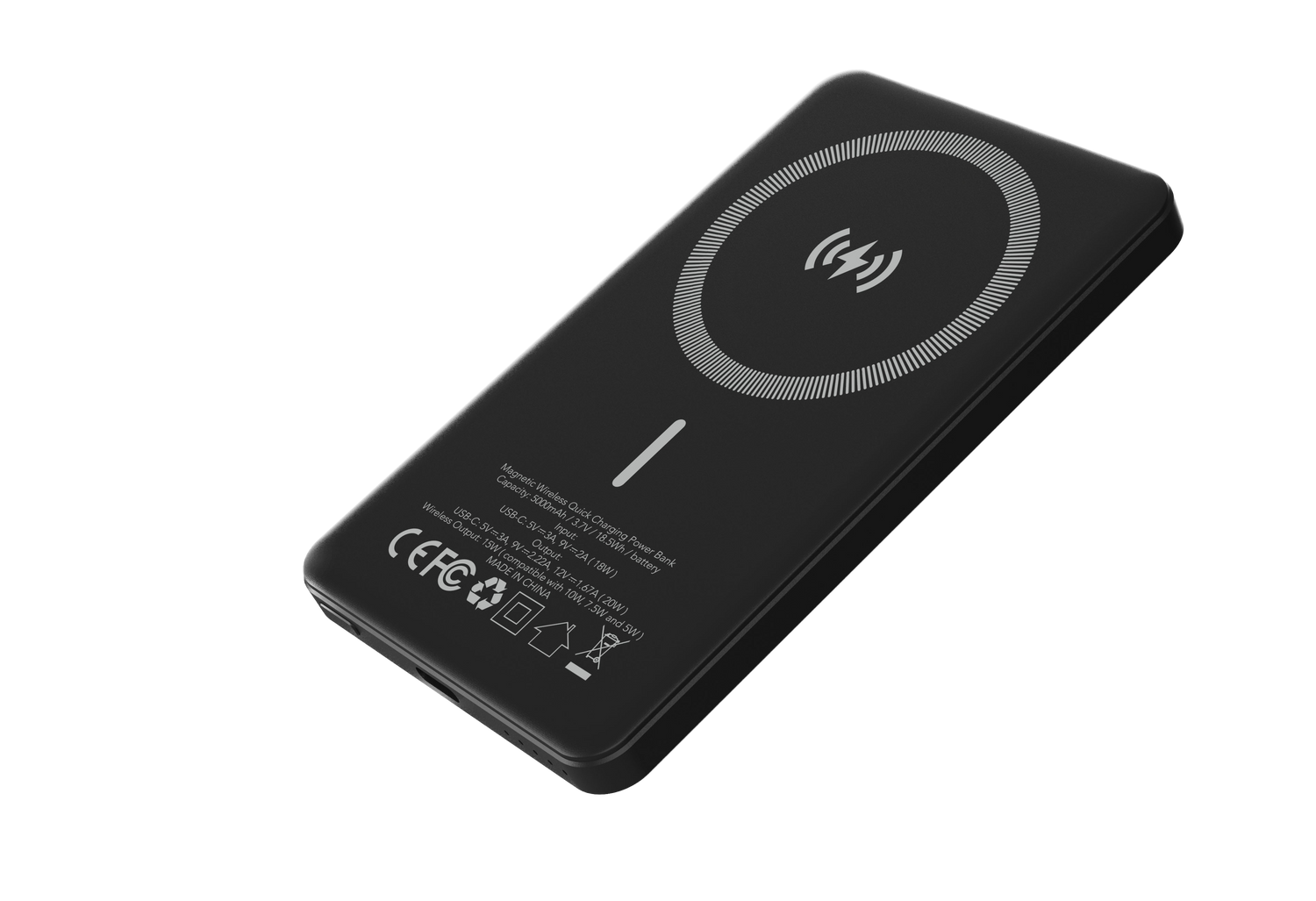 TinyPower Powerbank
Tämä magneettinen ja maailman nopein 5000 mAh:n virtapankki pitää huolen, että virtaa riittää koko päiväksi!
TinyPower® mahtuu helposti ja kätevästi mukaan minne menetkin. Magneetin ansiosta se kiinnittyy suoraan puhelimen takaosaan kiinni.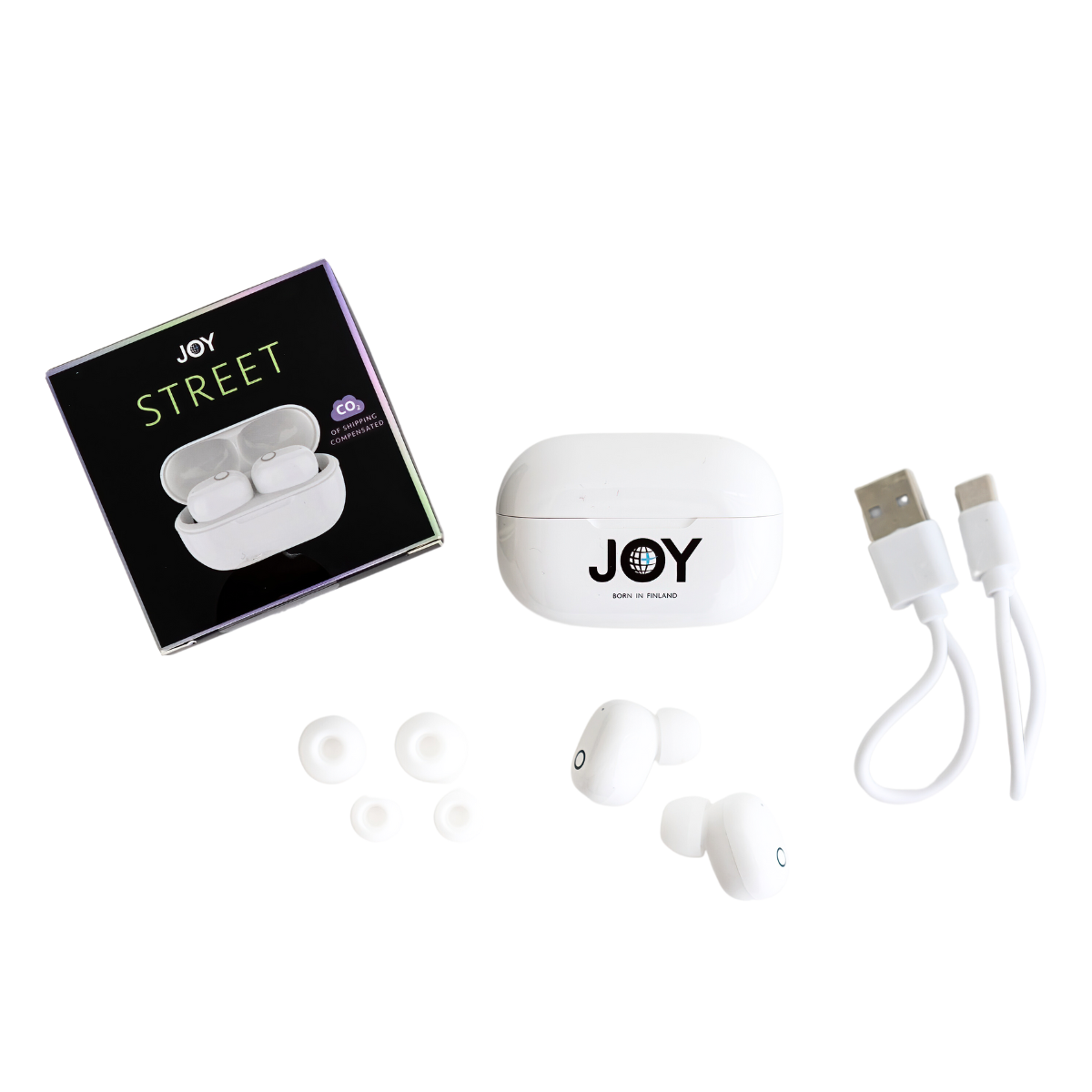 JoyStreet
Street-kuulokkeet ovat tyylikkäät ja pienet täysin langattomat peruskuulokkeet kaikille käyttäjille. Pieni ja kevyt kotelo mahtuu pienimpiinkin taskuihin mukaan. Yllättävän mehevä ääni, mukava sopivuus ja korvatuntuma 
Kuulokkeiden akunkesto hintaluokkansa parhaimmistoa, joka ei jätä sinua pulaan. Kuunteluaikaa latauskotelon kanssa yhteensä 12 tuntia – ja pelkillä napeilla 3-4 tuntia.
Osta nyt 64.90 € (€123,90)
Joy Street tiedot
Toiminnot

Frequency response: 20-20KHz

Akku

Battery capacity: 30 mAh / 250 mAh

Charging time: 1.5-2 hours, playback time: 3-4 hours

Yhdistettävyys

Bluetooth version: AB 5.1
Osta nyt 64.90 € (€123,90)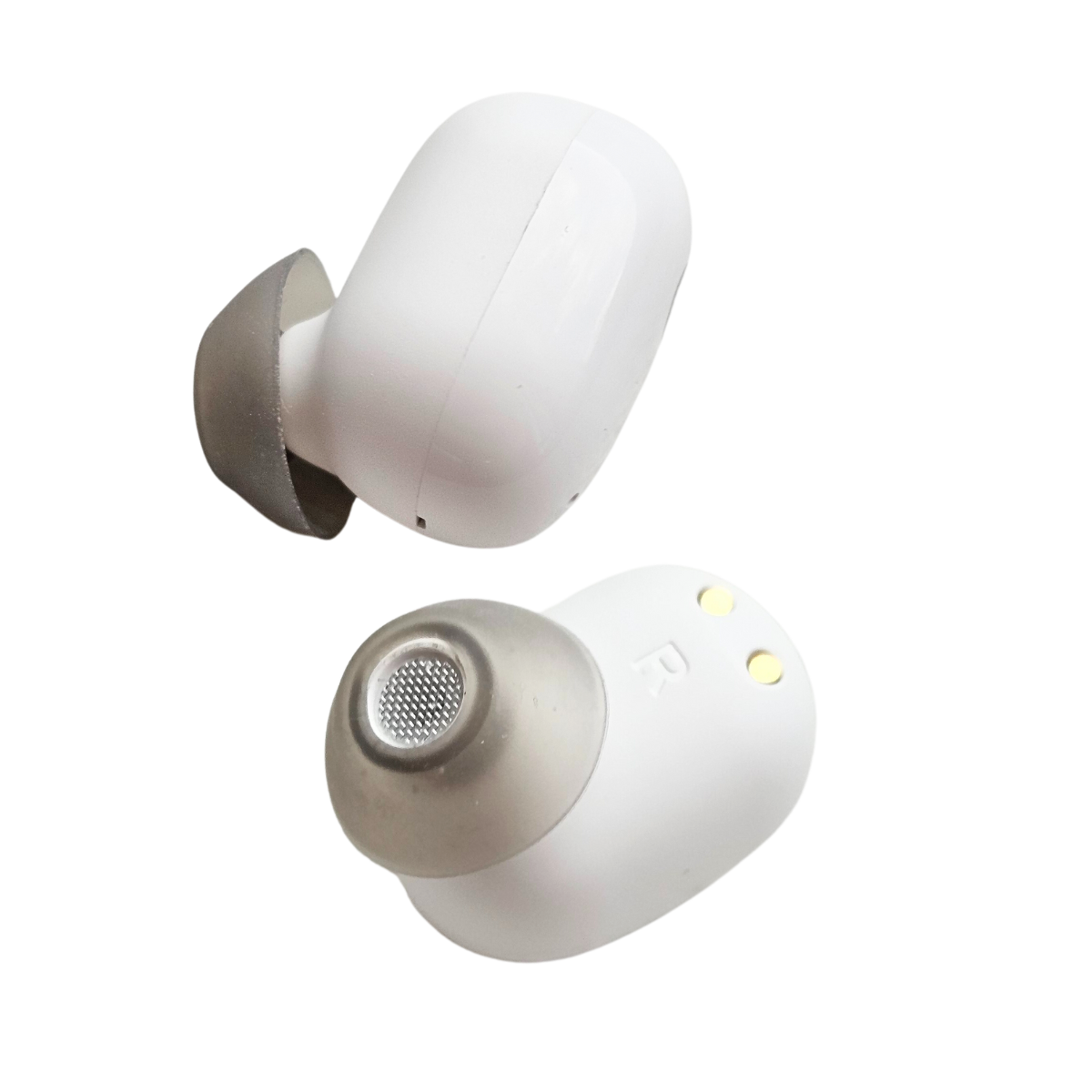 Suomalainen ja ekologinen - 2v täysi laitetakuu
Koko toimitusketju hiilijalanjälki kompensoitu
Markkinoiden pienin muoviton tuotepakkaus
Toimitus pienessä kirjekuoressa ympäri maailman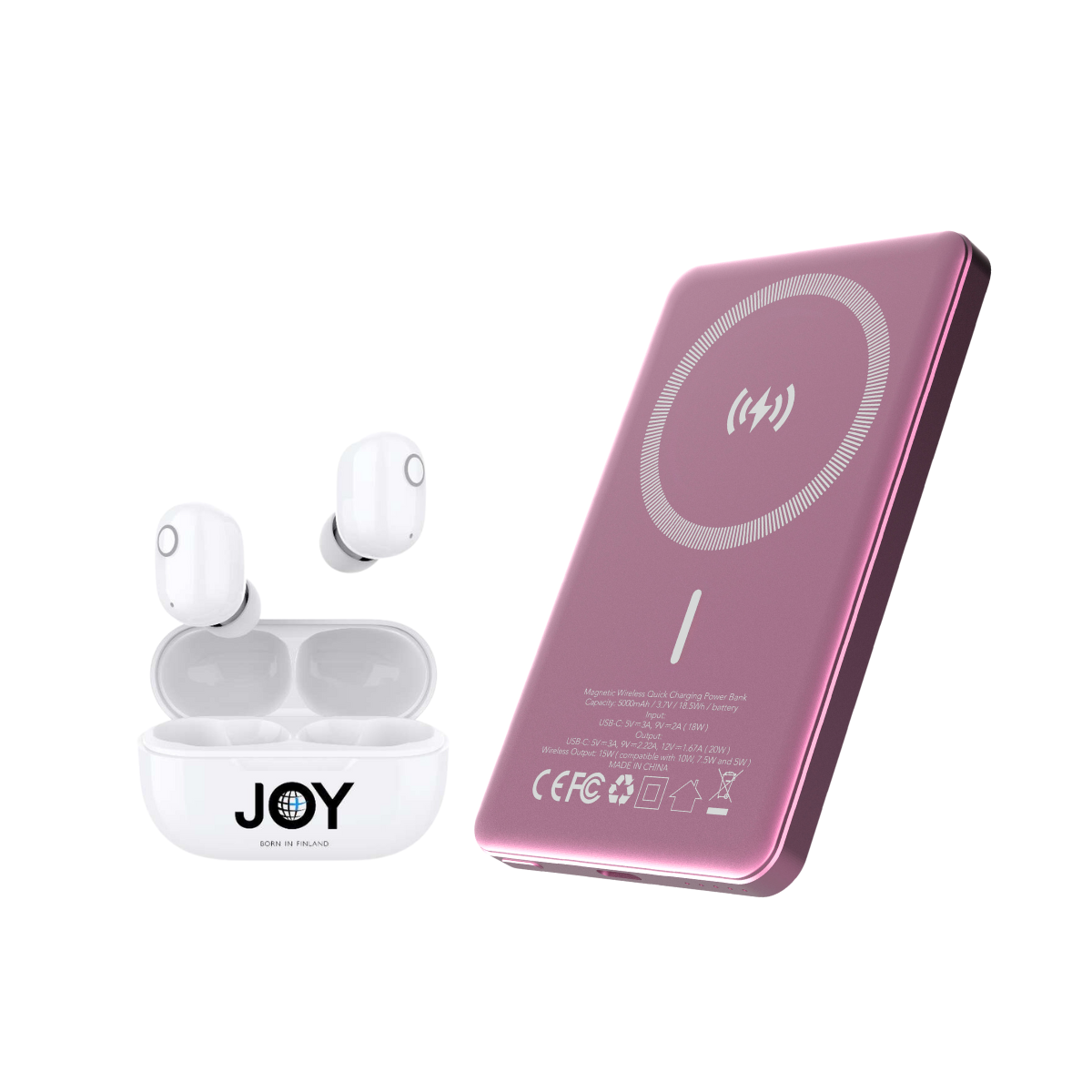 TinyPower + Street
Osta nyt 64.90 € (€123,90)
Tilaa nyt ja hyödynnä 59€ arvoinen etusi! Annamme nyt rajallisen määrän Joy Street-kuulokkeita mukaan TinyPower® tilauksiin.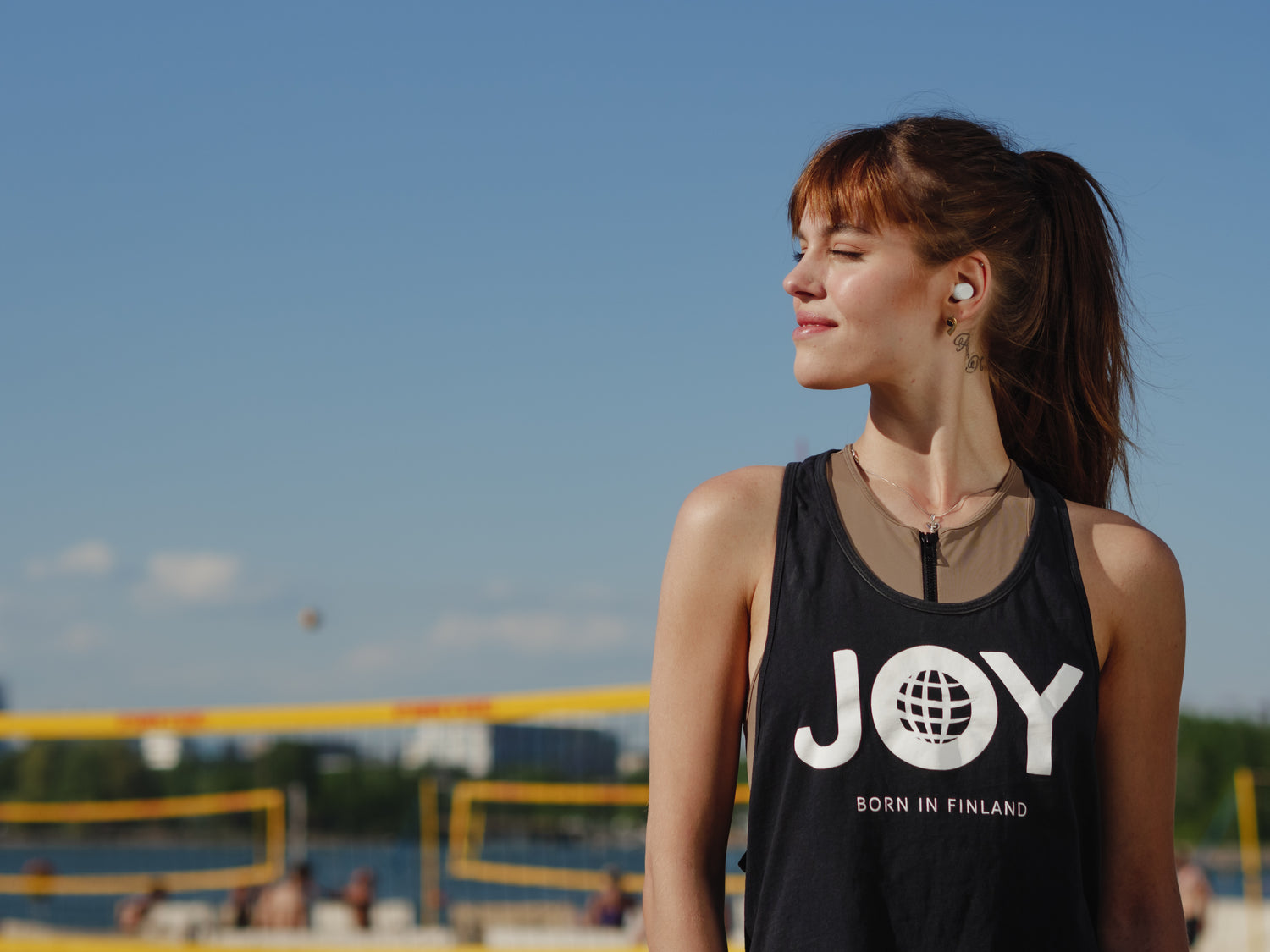 Kokeile tuotteita 30 päivän ajan riskittömästi!
Annamme tuotteillemme 30 päivän tyytyväisyystakuun. Jos et ole tyytyväinen, annamme rahasi takaisin.