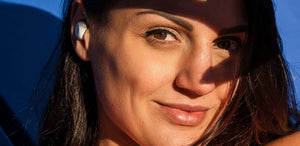 Sign up to a JOY newsletter and
get a 10€ gift card for earbuds!
Happy Customers of JOY. Test and give us feedback!
Unbelievable how the music can be this clear and rich but the size of the earbuds is smaller than my fingernails. I have never ever seen an earbud this small, but at the same time also never tried an earbud that fits so well and is stable to my years. simply perfect for me.

Jyrki, Finland
WoW was the first experience that I had with TinyS. I did not expect this high-class audio experience from this small earbuds. I am truly excited about this product and I believe that these may be the best earbuds that I have used. Besides the music experience, the best thing is the fit and look of these earbuds. These just look and feel amazing. I highly recommend you to try the TinyS.

Henri, Finnish user
For me, the most important thing in earbuds is the fit. and I have never felt more comfortable with earbuds in my life that will stay on your ears even how hard you jump and run. and still, the sound is like from big headphones clear with the right bass level and the battery life is enough for hours and hours. perfect buddies for sport and office.

Michelle, student
The number 1 reason I love these headphones is because they fit inside the ear perfectly and they never fall because of how light and tiny they are!😍 Also the sound is incredible and the passive and design based noise cancelling really makes it even better. I also love pretty design.

Natalie Ounaskari, model Istanbul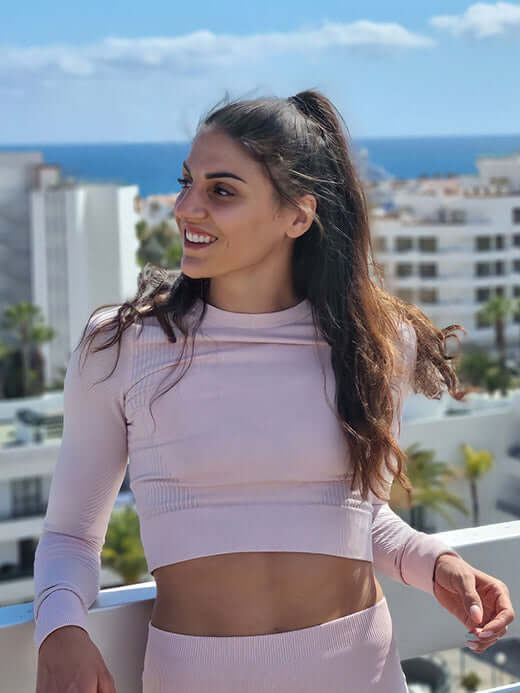 TINYS - THE MOST PERFECT EARBUDS FOR SPORTS I HAVE EVER EXPERIENCED.
I am Nooralotta Neziri, an Olympic level professional athlete. For me music is a central part of everyday living; training, focusing, recovery, and free time. For me, it is centrally important that I can deep focus on music when it is necessary, also for me music gives energy and pushes me forward, and helps me relax and enjoy the moments of life.
Stability and good fit with TinyS earbuds is something that I have never earlier experienced.
I can run, move, and spin and the earbuds stay, but you don't even notice them. What I really love is the Hifi level sound that you cannot believe comes from these smallest earbuds that you have ever experienced before.
For me as a professional athlete the earbuds and headphones are one of the most important things that I carry all the time with me.
Richness and quality of music are the central factors when I choose the right earbuds for use. Now I have found the most perfect and unbelievable earbuds that I have ever experienced before - these JOY TinyS.  
TINYS - THE NEXT SUPER SELLING MODEL
I have several years of experience in the audio business and knowledge about what customer wants for earbuds and headphones. I believe that these JOY earbuds might be one of the best earbuds you can find in their price category. A stunning price-to-quality ratio where you get at the same package, this great-looking earbud in the smallest size you have seen with unbelievable fit and audio experience that last hours due to the surprisingly long battery life.
Besides these earbuds physical elements the three-year warranty with extra one-year loss warranty is something absolutely unbelievable that you do not find in anywhere else.
I am sure that everyone who has the possibility to try the JOY products will be surprised by the fit sound and size of these earbuds which makes these products the best on the market in my opinion.
Warm recommendation to these JOY`s earbuds, you will be surprised positively.
Jarmo Nevari, CEO of Hifistudio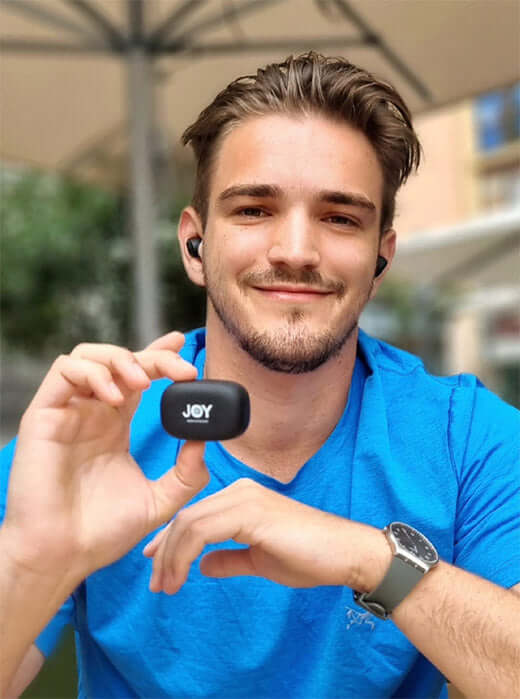 TINY - SURPRISING FULL SOUND AND PERFECT FIT
I have owned about twenty to thirty pairs of headphones and I really care about sounds mostly and everything! What you will notice in Tiny earbuds is straight away they are very very small and very lightweight but the sound is very present and sound is very full. Sound is not bloated or plastic. And most of all I always think if they bring smile to your face when you are listening your music, that is the most important feature. I say: A Big recommendation from Australian audio enthusiast and health and fitness professional - Marcus
The Brand
Joy`s passion is to make the world a more positive place. And we think that the world is better place with better music experiences. Music resonates emotions through people and commonly there where is music is also joy. Where joy is there life is at its best.
JOY - positive vibes. 
Read more
TinyPower®
Vara-akku säästää aikaasi ja siirtää tarvetta uuden puhelimen hankintaan. Tiny Power ratkaisee puhelinten akun keston ja vanhenemisen ongelmat. Vara-akku myös tehostaa työntekoa etenkin etätöissä.
Osta nyt